Defining an Audit
Updated on March 23, 2023

, 125 views
An audit is referred to as the examination of an organization's financial report. It can either be done by an organization or an independent auditor. Such a financial report comprises notes outlining a summary of substantial accounting policies, statement of equity changes, an income statement, Balance Sheet and additional explanatory notes.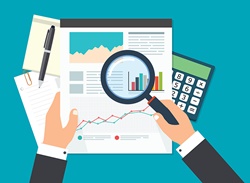 The objective of an audit is to create a perception of whether the information available in the report reflects the true financial position of the organization or not. Moreover, in a way, it answers the following questions:
Are losses and profits adequately evaluated?
Is the information of what the organization owes and owns adequately recorded in its balance sheet?
While probing the financial report, auditors have to follow certain auditing standards that are set by the government. Once auditors complete the task, they write a report to explain their research and add an opinion from work.
Basically, all of the limited liability and listed companies are subject to an audit every year. Other companies may need or request one as per their ownership and structure.
Ready to Invest?
Talk to our investment specialist
The Process of Conducting an Audit
The management of the organization creates a financial report. It has to be created according to the financial reporting standards and legal requirements.
The directors of the organization approve this report.
Auditors begin the examination by acquiring an understanding of the organization's activities and keeping the Industry as well as economic issues in mind that may impact the business during their period of reporting.
For every significant activity listed in the report, auditors comprehend and evaluate risks that may have a substantial effect on the Financial Performance and position of the company. They also evaluate the steps taken by the company to mitigate risks.
On the Basis of identified risks and controlling measures, auditors contemplate upon what the management has done to make sure the financial report is precise.
And then, auditors make a judgment regarding whether the financial report is true or not, whether it offers a fair view of the financial position, cash flow of the company or not as per the reporting standards.
At last, auditors create an audit report mentioning their point of view and share the same with the members and shareholders of the company.