Understanding Financial Literacy
Updated on September 28, 2023

, 4641 views
Financial literacy relates to Personal Finance management, budgeting, and planning to understand and utilize differing financial capabilities efficiently. It allows people to be self-sufficient for achieving financial stability.
The knowledge and expertise of financial principles and ideas, such as financial planning, compound interest, debt administration, effective investment strategies, and money-time value, are needed to make better financial decisions.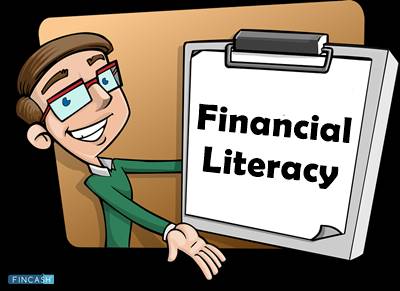 Financial illiteracy may lead to poor financial choices that can adversely affect the economic well-being of an individual. Moreover, it impacts the ages and the socio-economic strata, leading many borrowers towards bad loans, bankruptcies, or to falling prey to predatory loans, mortgages, fraud, and exorbitant interest rates.
Improving financial literacy involves learning budget skills, tracking costs, learning debt repayment tactics, and planning for retirement successfully.
Financial education means knowing how money works, developing and achieving financial objectives, and dealing with internal and external financial obstacles.
Financial Literacy Advantages
Here are the benefits of financial literacy:
The focus on the capacity to Handle personal finance efficiently is involved in financial literacy.
It also provides experience in making good personal financing choices, including savings, insurance, property, college payments, budgeting, retirement, and Tax Planning.
This area reflects the behaviours and perceptions of an individual about money in connection with his daily life. Financial literacy shows how an adult decides financially.
The skill helps a person develop a Financial plan to describe their Income, expenses, and liabilities.
Get More Updates!
Talk to our investment specialist
Financial Literacy Improvement Strategies
Developing financial literacy to better your personal finances require learning and exercising a number of competencies in budgeting, debt management and debt payments, and credit and investment products. Several strategies are to be considered here.
1. Creating a budget
Track how much money you receive on a paper, on an Excel sheet, or a budget application every month. In the budget, you are required to incorporate income (paycheques, investment), fixed expenditure (rent/mortgage payments), discretionary expenditure (such as eating out, travelling, and shopping), and savings.
2. Pay yourself first
This reverse budgeting technique includes a savings goal to create savings, decide how much you want to contribute every month, and set aside this amount before you divide the remainder of the expenditures.
3. Instant payment of bills
Be sure that payments routinely come in time. Stay on top of monthly bills. Examine automated debits from a checking account or payable applications and register for payment reminders (via email, phone, or text).
4. Check your credit score
Good Credit results will assist you in getting, among other benefits, the best interest rates on credit cards and loans. Check your score using a free credit monitoring program (or, if you can afford to and want to add an extra layer of protection for your information, use one of the best credit monitoring services). Be mindful of financial decisions, such as loan enquiring and credit utilization ratios that might increase or reduce your score.
5. Manage debt
Develop a debt reduction plan, such as first paying the loan at the highest rate. Contact creditors to renegotiate repayment, combine debts or find the debt counselling program if they have excessive liabilities.
6. Invest in your future
Consider starting an Individual Retirement Account (IRA) and creating assets, Fixed Income, and commodities diversified investment portfolios. Request the financial guidance of expert consultants if needed to help you figure out how much money it takes to retire and design methods to meet your objective quickly.