Impaired Asset
Updated on September 25, 2023

, 475 views
What is Impaired Asset?
An impaired asset is known as such an asset that has the Market value lesser than the value listed on the Balance Sheet of the company.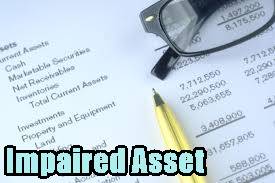 When an asset is regarded as impaired, it has to be written in the balance sheet of the company to the current market value.
Explaining Impaired Asset
An asset turns out to be impaired if the future cash flow of the asset is lesser than its current value. An asset becoming impaired could be the result of materially adverse changes in the legal factors that have the power to change the value of the asset, substantial changes in the market price of the asset because of consumer demand changes, or damage to the physical condition of the asset.
Another signal of possible Impairment is when the asset is not likely to be disposed of before its viable anticipated disposal date. Asset accounts that may become impaired are the company's fixed assets, goodwill, and accounts receivable.
Further, the assets are tested for the impairment periodically to make sure that the total asset value of the company is not overstated on the balance sheet. Not just that, but Generally Accepted Accounting
GAAP has also suggested that companies must take economic circumstances and events into consideration that may occur during the impairment tests to comprehend if the market value of the asset has decreased below the carrying value.
Also, the impairment loss should be recorded only if the expected future cash flows are likely to be unrecovered. When the impaired asset's carrying value gets written down to the market value, the loss is mentioned on the Income statement of the company in the same accounting time period.
As far as accounting for impaired assets is concerned, the total value of the impairment is the difference between the carrying cost and the lower market value of the asset. The journal entry that is done to record this impairment is the debit to an expense, or loss, account and the credit to the relevant asset.
Ready to Invest?
Talk to our investment specialist
Example of an Impaired Asset
Let's take a real-world example of the impaired asset. Back in 2015, Microsoft mentioned its impairment losses on their goodwill and other intangible assets that were related to the brand's purchase of Nokia in 2013.
Initially, Microsoft documented the goodwill related to the Nokia acquisition in the $5.5 billion of the amount. This goodwill's Book Value and the assets as a whole, reported on the balance sheet of Microsoft, were said to be overstated when they were compared to the original market value.