ATM Vs Debit Card- Major Differences to know
Updated on September 22, 2023

, 62567 views
Today plastic cards have become the new currency. Debit, credit and ATM cards are helping us make transactions way easier than liquid cash. But, to use each of them efficiently, you need to know how they differ from each other. In this article, we will have a look ATM vs Debit Card- their features, advantages and disadvantages.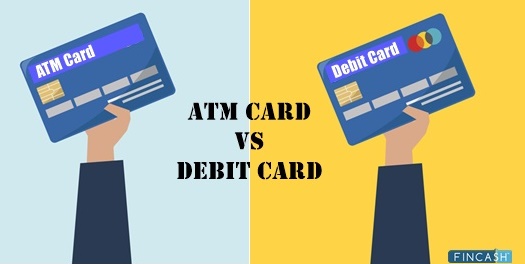 What is an ATM Card?
An Automated Teller Machine (ATM) is a small plastic card that comes with a unique card number. It includes details like:
The name of the cardholder
The validity period in MM/YY format
The logo of the Bank issuing the card
The logo of the payment system (Maestro or Plus)
A magnetic strip for identification
Card Verification Value (CVV) number
You can also use an ATM card for cash withdraw up to the permissible withdrawal limit. You can also check your account balance and transfer funds from your bank account to another.
Looking for Debit Card?
Get Best Debit Cards Online
What is a Debit Card?
A Debit Card looks similar to an ATM card, but you can do a lot more than just withdrawing cash. A debit card comes with payment gateways- either Visa, Mastercard or RuPay. Visa and MasterCard is an International Debit Card, whereas Rupay is only limited to India.
With a debit card, you can-
Withdraw cash up to the daily withdrawal limit
Change your PIN number
Opt mini statement
Check your account balance
Use mobile and net banking
Order cheque book
Deposit cash via ATM machine to your bank account
Pay on online websites, including international websites
Pay utility bills
Transfer funds from a bank account to another
Opt EMI option,
Book flights, hotel, etc.
Other features of debit card are the same as that of an ATM card with unique 16 digit card number, name of the account holder, CVV number, magnetic strip, etc.
ATM Vs Debit Card: In a Nutshell
Before you acquire a plastic card, ensure you know its features and usage.
Here's a quick look at ATM Vs Debit Card-
| Parameters | ATM Card | Debit Card |
| --- | --- | --- |
| Purpose | You can withdraw money, transfer funds and check account balances. | It can be used for various purposes like you can withdraw money, transfer funds, pay bills, book flights, hotels, etc. |
| Payment system | Mostly issued by Plus or Maestro | Issued by Visa, MasterCard or RuPay |
| Internet banking | These cards do not offer the Facility of internet banking | You can use the facility of internet banking and make payments online |
| Online shooping | ATM cards cannot be used to do online shoppings | Debit cards are used for online shopping at various e-commerce sites |
Payment Gateways
Payment gateways are basically connectors or a tunnel that transfers your money from your bank account to the payment platform. It is a software that helps you to direct your money via debit card, credit card, online wallets, UPI, online banking payment modes to the merchant's payment portal. VISA, MasterCard and Rupay are three such payment gateways that allow money transfer.
Conclusion
ATM cards are good for dispensing cash at ATM centres, however, ATM-Cum-Debit cards have an edge over ATM cards as they offer the best of both.