Family Health Insurance: A Detailed Understanding
Updated on May 25, 2023

, 10964 views
Family health insurance is one of the best ways to keep your family protected from unforeseen healthcare emergencies. Certainly, the family is the most important part of our life and we all want to keep our family members safe. How does one do that? It's easy, get a family health plan (or medical insurance plan for family). There are various health insurance policies for family available in the Market. It is advised to compare health insurance quotes offered by various health insurance companies and choose the cheapest family health insurance at the same time not compromising on features.
Family Medical Insurance
Nowadays, family insurance is a must for everyone as the lifestyle of people is changing drastically. Also, the medical insurance policies are easily available these days, online as well as offline. But, the most important thing to know first is, how is a family health insurance different from an individual health insurance policy? Let's find out!
Family Health Insurance
Family health insurance plan is a health insurance plan specially designed for families. Principally, it is same as an individual health insurance policy with the only difference being that a family health plan covers the entire family. To make it easy for you here is an example. Supposedly, you are a salaried employee of 45 years of age and have four members in your family that includes two children. To secure your family, you buy an individual medical insurance of INR 3 lakhs for each member of your family. Then, if your child is diagnosed with any severe illness and the entire healthcare cost exceeds INR 4 lakhs, you will have to pay the remaining amount of INR 1 lakh from your own pocket. Contrarily, if you buy a family health policy of 5 lakhs and a similar situation happens, then you get a coverage for the entire amount and you will not have to pay anything extra.
So, every individual with family responsibilities is recommended to buy a family health plan. Buying health insurance policy for family is not only cost effective but ensures a much large health coverage as well. However, before you start looking for medical insurance plans consider a few tips. Take a look!
Tips for Buying a Family Health Plan
Research for Best Family Insurance Plans
Health Insurance companies in India provide various family health plans. Choosing the best among them is a really daunting task. But to ensure you buy an appropriate family health insurance, do your research well and explore all the best options available before you narrow your choice to one.
Analyse your Family Healthcare Needs
This is an essential Factor one must consider as each of us have unique healthcare needs. In general, different health insurance policies for family have different health quotes and features. Some plans might seem apprehensive at the first look due to their immense benefits, but it is important for you to make sure that do you actually need those benefits, are they suitable enough for you. Therefore, always select a family insurance that suits your needs and that of your family.
Decide the Health Quote and Sum-assured Amount Wisely
The most crucial thing when it comes to choosing a family health insurance is deciding the sum assured amount. Sum assured is the amount your family is covered for under a family health insurance policy. Hence, it is important to choose that amount wisely as you would be insured upto the selected limit. Also one should take quotes from various insurance companies to ensure that they get the best value for money.
Best Health Insurance Plans for Family
With an objective of protecting your family from healthcare emergencies, if you intend to buy a family health insurance plan, here are a few best health insurance plans for the family that you must check:
ICICI Lombard Complete Health Insurance – iHealth Plan
Max Bupa Heartbeat
Star Health Family Optima
Oriental Insurance Happy family floater
Tata AIG Wellsurance Family
For more details about the plan, go through the table below.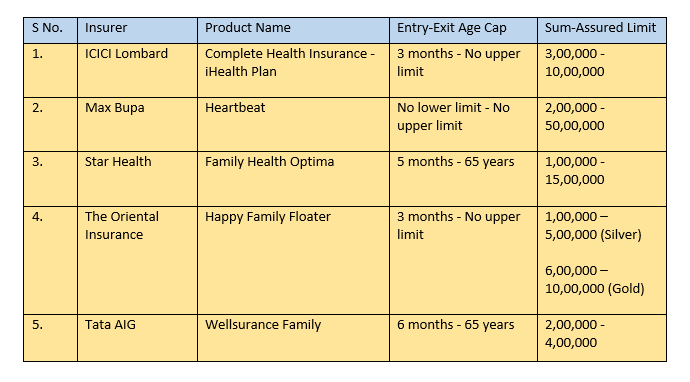 Conclusion
Ready to Invest?
Talk to our investment specialist
To conclude, I would suggest you choose a family health insurance plan wisely from amongst the list of health insurance companies. Keep your family secure well in advance. Buy a family health policy now!