MasterCard Debit Card
Updated on September 18, 2023

, 12176 views
MasterCard is one of the payment systems of Debit Card. It is most widely used amongst the people across the globe. It is an International Debit Card, therefore you can make transactions anywhere, anytime. MasterCard can be accessed at over 900,000 ATMs across the world.
Furthermore, million+ retailers accept the MastCard, therefore, withdrawing and making transactions is very easy.
MasterCard Worldwide is an American multinational financial services corporation. The company co-ordinates and processes payments between the banks of the retailers and the banks issuing the MasterCard. Debit cards with the MasterCard payment system are known for attractive rewards points and several benefits of services.
You also get various types of MasterCard Debit Card to choose from. Read on!
Types of MasterCard Debit Cards
There are typically three types of MasterCard Debit Cards:
Standard Debit Card
World Debit Card
Platinum Debit Card
1. Standard Debit Card
With this Standard Debit MasterCard, you can manage your finances in a more convenient way. Also, you can keep an electronic record of each transaction. It gives you 24 hours of uninterrupted banking services. Many top Indian banks offer HDFC, SBI, Kotak, Axis, IDBI, etc., Standard Debit Card.
It is accepted at millions of merchant worldwide, including hotels, restaurants and online retailers. You can even use Standard Debit MasterCard to pay monthly bills automatically.
Every transaction or purchase done with this card is backed by Zero Liability Protection. Furthermore, you get emergency assistance virtually anytime, anywhere, in any language. The company helps you reporting a stolen or lost card, finding an ATM, emergency card replacement, Cash Advance, etc.
Looking for Debit Card?
Get Best Debit Cards Online
2. World Debit Card
This MasterCard Debit Card comes with premier benefits. It offers you a higher level of convenience and security. It is known for its exceptional customer service and hassle-free travel experiences.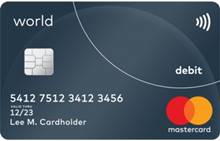 You can enjoy complimentary room upgrades and early check-in and late check-outs. Furthermore, you can order breakfast daily for two, and access to special amenities. World Debit Card gives special offers on dining all over the world.
Concierge services from the MasterCard offers personal services like ticket bookings, dinner reservations, locating hard-to-find items, buying and delivering gifts and coordinating business-related arrangements.
Whether you use the card to shop online or in a store, every purchase is backed by Zero Liability Protection. Also, you get emergency assistance virtually anytime, anywhere.
3. Platinum Debit Card
Platinum Debit MasterCard offers a mix of travel benefits and privileges. While travelling through flights, you can get access to participating airport lounges across the world. MasterCard Airport Concierge helps you enjoy an exclusive 15% savings on arranging a personal, dedicated Meet and Greet agent to escort you through the airport.
You can also secure the best restaurant in town. Furthermore, by spending a minimum amount at participating restaurants, you will get a complimentary bottle of wine just.
In case of an unauthorised transaction in your account, you'll get probably get a liability policy to protect you. To ensure you can make safety online purchases, e-Commerce protection is provided automatically when you pay through your Platinum Debit Mastercard.
How to Shop Online securely with MasterCard?
When you are shopping online, a One-Time Password (OTP) is texted via SMS on your registered mobile number. This OTP is generated by your issuing Bank every time you make an online transaction.
In case you detect any suspicious activity on your card, notify your bank immediately and provide them with all the details. You should also check your card statements regularly so that you are aware of any unauthorised transactions on your card.
MasterCard Debit Card Customer Service
For any query or report you can contact the MasterCard Debit Card Customer Care number of India at 000-800-100-1087.
Conclusion
MasterCard is the most secured networks and has partnered with many leading banks in India. Enjoy easy, secured and hassle-free transactions and get an enhanced experience with MasterCard Debit Cards.