A Detailed Guide to Real Estate
Updated on September 20, 2023

, 4412 views
*"Do not wait to buy real estate; buy real estate and then wait." You must have heard this saying from your parents, grandparents, investment experts, financial advisors, or anybody whom you asked for a piece of advice on Investing. But ever wondered what exactly real estate is?*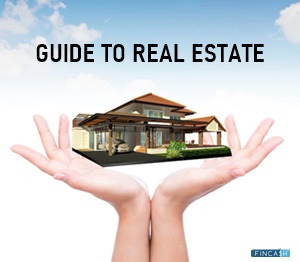 Simply put, it is just another investment avenue that guarantees returns over a while. But delving deeper into its meaning, here is what real estate means.
What is Real Estate?
Real estate is a tangible asset. It is a piece of Land with construction on it. Apart from buying for personal use, it is a prominent source of investment as well, considering it provides a good return in the long run.
Examples of Real Estate
To understand it better, here are some real estate examples:
House constructed on a piece of land
Farmhouse constructed on land
Building
Hospital
Hotel
Office
Just land with nothing constructed on it
Get More Updates!
Talk to our investment specialist
Types of Real Estate
Real estate can be divided into four broad categories based on its purpose. These categories differ in their utilities, prices, and regulations by the government.
1. Residential
This type of real estate is to provide residence to people. Residential real estate is of several types depending upon the number of people residing in it and the type of residence. Individuals, nuclear families, joint families, etc., can live in residential real estate. Some of the different types of residences are:
Apartments
Floors
Duplexes
Triplexes
Quadplexes
Townhomes
Penthouses
Condominiums
Homes
2. Commercial
This type of real estate is for commercial purposes, meaning the aim here is to earn an Income. This can be for carrying out business or professional activities. Some examples of commercial real estate are:
Grocery shops
Stationery shops
Hospitals
Hotels
A company's office
A chartered Accountant's office
3. Industrial
This type of real estate has one thing in common with commercial real estate: the motive of earning an income. The difference is that the activity carried out on this type of land is of a Manufacturing nature, that is, production, processing, storage, distribution, research, and development. For example:
A factory manufacturing product
A warehouse
4. Land
Real estate on which primary activities, like agriculture, farming, and grazing, are carried out is called land. It also includes vacant or underdeveloped land which is purchased for construction in the future. Some examples are:
Agricultural land
Barren land
Grazing fields
History of Real Estate
In the ancient period, there was nothing like real estate. People used to gather food from the forests, hunt, and eat. They used to reside near water bodies and lived in a self-sustainable manner. But as humans progressed from ancient to medieval and then to the modern era, new ways of living emerged. It was after people started agriculture that they realised the need and the perks of owning land. In colonial India, the real estate Industry did not exist; rather, there was a zamindari system. Under this, few landlords owned large portions of land.
As industrialisation and modernisation hit the western countries, the concept of owning property and renting it out also came into being. This further affected the trends in the Indian subcontinent, and thus, the real estate industry came into force. But the major highlight here is that the real estate industry flourished in India only after independence from colonial rule.
Historic Moments in Indian Real Estate
The journey of the Indian real estate industry began after the country gained independence when the government realised the importance of a well-developed housing and property sector. Following are the major milestones as achieved in India:
The first major step taken by the Indian government in this direction was in 1966 with the Maharashtra Regional Town and Planning Act
Since this sector was at the initial stage and lacked strict regulations, the country witnessed price hikes due to speculation in urban areas. To get this in place, the Urban Land (Ceiling and regulation) Act was enacted in 1976
Many government institutions were developed to facilitate people in buying property not only for residential purposes but also as an investment. But the focus was still on providing self-owned residences. Some of these institutions were:

Housing and Urban Development Company
City and Industrial Development Corporation
Mumbai Metropolitan Region Development Authority

The infamous Housing and Development Finance Corporation was set up in 1994
In the year 2005, Foreign Direct Investment (FDI) was allowed in the real estate sector to strengthen the industry further
In the early 2000s, malls and shopping complexes were also viewed as a major part of the real estate industry as these were constructed in metro cities
Real Estate Investment Trusts (REITs) were launched in 2014
The Real Estate regulations (and Development) Act was made into effect in 2017 to control unfair practices and protect the interests of buyers and investors
Components of the Real Estate Industry
From the outside, the real estate industry might seem to be limited to buying and selling property. But there is a lot more to it. Constructing buildings, managing real estate, mediating between parties, keeping track of properties available, getting the right customers and a plethora of other tasks form a part of this industry. The following are the major fragments:
Development
Construction of houses, offices, and large buildings, like shopping complexes, hotels, hospitals, etc., all come under the purview of construction. This part is linked with developing real estate and adding value to existing real estate.
Brokerage and Agents
This part of the industry works depending upon the demand and supply of real estate. They facilitate the buying and selling transactions by providing the most appropriate properties to investors.
Sales and Marketing
Sales and marketing are inborn parts of any industry. The existing real estate, real estate under construction, and the real estate that is planned to be constructed require proper marketing to find the best investors.
Lending
Goes without saying buying real estate requires huge sums of money. It is very uncommon for people to have the required money in hand to buy real estate. They have to borrow money for this purpose. This has given rise to the lending sector that offers its services to real estate buyers.
Pros and Cons of Investing in Real Estate
The real estate industry has been one of the major investment avenues since it came into being. This predominance of real estate is not without reason. The following are the pros of investing in real estate:
Pros of Investing in Real Estate
1. Steady income
If you buy a property and rent it out, it guarantees you a regular income. It is generally said,'' Landlords earn while they sleep", and it is cent percent true. Without doing anything, you can earn a steady income. However, this income depends on the type of real estate, its location, size, etc.
2. Appreciates with time
There are only a few asset classes that only appreciate with time. Gold and real estate are two such assets. No matter what, the prices of real estate are bound to increase in the future, apart from some exceptional circumstances. If you buy a property today and sell it after two years, you will surely get a higher amount in return
3. Increase in income with time
It is not just the value of the real estate but the income generated from it also increases with time. This means there is a steady rise in the rent you charge for your property. The rise depends on the overall increase in real estate prices
4.Tax benefits
Every income you earn is taxable to some extent. But when it comes to income from property, it gives you the maximum tax benefit. As compared to other income sources, you pay less tax on such income
5. Financial leverage
Buying real estate is easy using financial leverage. This is the act of borrowing Capital to invest with the hope of getting higher returns in the future. You can make the best use of financial leverage in this industry
6. Easy to buy
Although the actual cost of real estate is quite high, you can still buy it at a reasonable price. This means you do not need large amounts of funds to buy real estate. Borrowings and loans are the most common ways of financing real estate purchases
7. Safeguards against inflation
As Inflation rises in any Economy, the costs of holding investments also upsurge. But it is not the same with real estate. When there is an inflationary rise in the economy, there is a rise in the value of real estate without any changes to the cost of ownership. The income from it rises, but not the cost of it
Cons of Investing in Real Estate
1. Takes a lot of time
Deciding to invest in real estate, selecting the most suitable property, gathering required funds, and transferring ownership - all of this takes a lot of time. The whole process is tedious at times
2. Only for long-term investors
If you want returns in the short run, real estate investments are not for you. For people who like rapid and volatile returns on their investments, real estate can be the least desirable place. This investment requires a lot of patience on the part of the investor
3. A lot of paperwork
Buying real estate is not a cakewalk. It requires innumerable legal compliances. Endless paperwork, interactions with legal professionals, and frequent visits to government offices are some requisites for investing in real estate. This process can sometimes exceed the usual period and get tiring
4. The timing is not always right
One important Factor to be considered while investing in real estate is timing. Buying the right property at the right time decides the returns on investment to a great extent. If your timing is wrong, the investment can go in vain
Careers in Real Estate
The real estate industry is an emerging one, with a lot of career opportunities inherent in it. The best part about a career in this industry is that it does not require any complicated degree or certification. Although relevant educational qualifications always improve things, there is no compulsory requirement.
This industry has various career opportunities, each with unique roles and duties. Some of these are as follows:
Real estate agent
Broker
Real estate advisor
Lenders
Analyst
Appraiser
Real estate lawyer
Legal professions relating to real estate
Real estate builder
Jobs in real estate companies
Conclusion
The real estate industry is a good investment avenue, provided you know the whys and hows of it. Like any other investment, you need to be well-versed in the background and the basic technicalities of the industry to get higher returns. This industry has been a safer option to invest in the long term. But since this is a growing sector, there have been a few frauds and scams here and there. So most importantly, you need to be careful before making any decisions.