Top 7 Best Performing Dynamic Bond Funds 2023
Updated on September 27, 2023

, 15481 views
Dynamic Bond Funds refer to the Debt fund schemes that invest their fund money in various fixed Income instruments across varying maturities. These schemes invest in Fixed Income instruments based on their perception about interest rate scenario and interest rate movements.
This scheme is a part of debt funds. Based who feel confused about interest rate scenarios and interest rate movements can choose to invest in dynamic bond fund. Some of the fixed income instruments in which dynamic bond fund invests its securities include commercial papers, certificate of deposits, gilts, corporate Bonds, and much more. It can be considered as a good investment option for medium to long-term tenures. Some of the top and best dynamic bond funds are listed below as follows.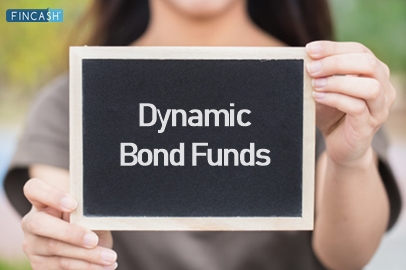 Why Choose Dynamic Bond Fund?
As mentioned earlier, dynamic bond fund is suitable for investors who are not much comfortable with the interest rate movements. To explain, the interest rates and bond prices share an inverse relationship. In other words, as the interest rate decrease, the bond price tends to rise. During the falling interest trend, the fund manager tries to increase the holdings in long-term fixed income funds.
In addition, they diversify their Portfolio by Investing in short and medium-term funds. Such a strategy is called as duration strategy. Therefore, as the interest rate falls, the price of the long-term fixed income funds tends to increase along with these funds earning regular income. However, when there is a u-turn in the interest rate scenario from low to high; the fund managers try to increase their holdings in the short and medium-term fixed income instruments and reduce the holdings in gilts. Thus, by managing the portfolio actively, the fund managers of dynamic bond fund ensure that their investors earn commensurate returns.
Ready to Invest?
Talk to our investment specialist
Who Should Invest in Dynamic Bond Funds?
Dynamic bond funds are suitable for investors who are looking for a more active approach to fixed-income investing and who are willing to take on some level of interest rate and credit risk.
Top 7 Best Dynamic Bond Funds to Invest for 2023
Fund
NAV
Net Assets (Cr)
3 MO (%)
6 MO (%)
1 YR (%)
3 YR (%)
2022 (%)
Debt Yield (YTM)
Mod. Duration
Eff. Maturity
UTI Dynamic Bond Fund Growth
₹26.763
↓ 0.00
₹468
0.7
3.4
5.8
9
10.1
6.93%
4Y 4M 2D
4Y 9M
TATA Dynamic Bond Fund Growth
₹34.9217
↑ 0.00
₹146
2.6
3.8
5.3
6.6
5.88%
1Y 5M 16D
1Y 9M 7D
Aditya Birla Sun Life Dynamic Bond Fund Growth
₹39.7754
↑ 0.00
₹1,660
0.9
3.9
6.3
6.2
6
7.55%
3Y 3M 25D
4Y 6M 7D
ICICI Prudential Long Term Plan Growth
₹31.812
↑ 0.01
₹10,902
1.3
4
7.4
5.8
4.5
8.03%
2Y 4M 24D
5Y
IIFL Dynamic Bond Fund Growth
₹19.1753
↑ 0.01
₹785
0.7
4.1
5.8
5.6
3.6
7.43%
7Y 8M 6D
HDFC Dynamic Debt Fund Growth
₹77.6688
↑ 0.02
₹642
0.9
3.8
6.1
5.5
1.6
7.49%
3Y 8M 9D
7Y 2M 18D
SBI Dynamic Bond Fund Growth
₹30.9024
↑ 0.01
₹2,983
0.6
4.7
8.1
4.8
4.2
7.24%
3Y 3M 18D
3Y 10M 28D
Note: Returns up to 1 year are on absolute basis & more than 1 year are on CAGR basis. as on 22 Aug 23
*List of Dynamic Bond Funds having Assets >= 100 Crore & Sorted on 3 Year CAGR Returns.
How to Invest in Dynamic Bonds Online?
Open Free Investment Account for Lifetime at Fincash.com.

Complete your Registration and KYC Process

Upload Documents (PAN, Aadhaar, etc.). And, You are Ready to Invest!