How to do Aadhaar eKYC Through Fincash.com?
Updated on September 26, 2023

, 9568 views
KYC or Know Your Customer is a process that needs to be completed in the current scenario. With the advancements in the technology, it is easier to complete the process of KYC online known as eKYC also known as Aadhaar based KYC. In Fincash.com, people can complete their eKYC process during the time of registration itself. It's a one-time process through which people after which people can transact up to INR 50,000 in Mutual Funds for a particular year. So, let us understand the easy steps of completing the eKYC through Fincash.com.
NOTE: e-KYC is being discontinued as per Supreme Court The Supreme Court declared the portion of Section 57 of the Aadhaar Act that enabled private companies to use Aadhaar for establishing the identity of an individual, "unconstitutional".
Step1: Enter Your Aadhaar Number
The first step starts with entering your Aadhaar Number. During the registration process, when you select to go ahead with eKYC, this is the screen to which you are redirected. Here, you will enter your Aadhaar number and click on Submit. The image for this step is as follows where the bar to enter Aadhaar Number and Submit button both are highlighted in Green.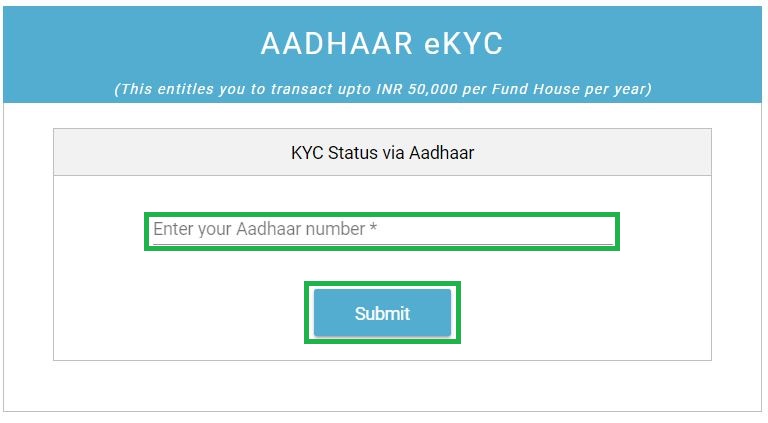 Step2: Enter OTP
Once you click on Submit option, a new page is opened in which you need to enter the One Time Password or OTP. You will receive this OTP in your registered mobile number against Aadhaar number. Once You enter the OTP, you again need to click on Submit. The image for this screen is given below where the Enter OTP Bar and Submit button both are highlighted in Green.
Step3: Fill Up the Additional Form Details
Once You click on Submit after entering the OTP, a new screen opens up where you need to fill up certain details. These details include the full name of your father and mother, your address as per Aadhaar, your occupation, and Income. Once you enter these details, you need to click on Submit again. After clicking on Submit, the process of eKYC gets completed post which you can start investing in Mutual Funds. The image for this step is given below as follows.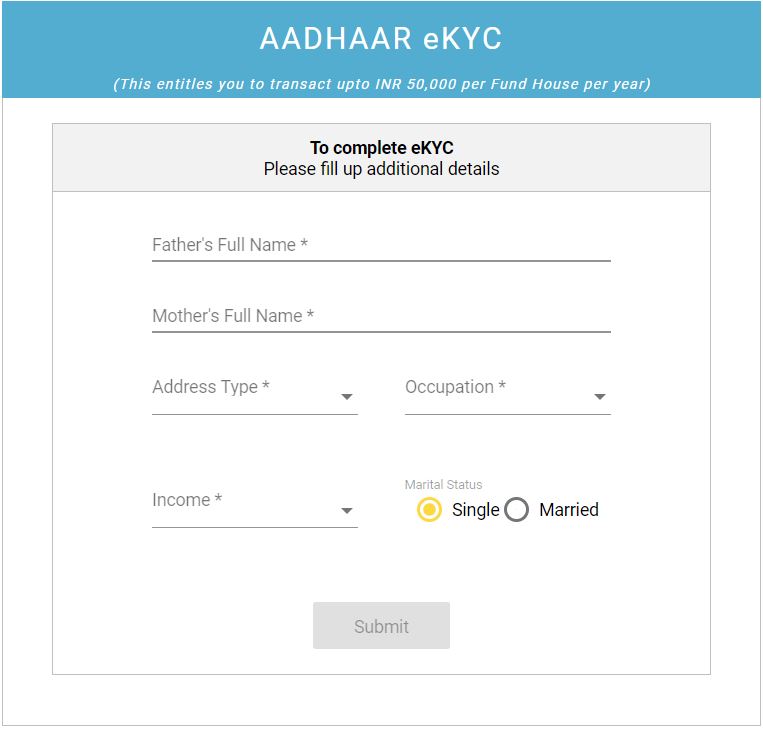 Thus, with the above-mentioned steps, we can find that the process of completing eKYC is simple. Now, let us understand the importance of eKYC.
Importance of eKYC
Some of the points which state the importance of Aadhaar eKYC is:
eKYC helps us to work in the process of paperwork thereby; creating a transparency process in the entire system.
The process of eKYC can be done instantly due to which people need not spend much time in the process.
It is a one-time process after which you can invest in any avenues.
Thus, from the above pointers, it can be said that the process of eKYC has a lot of advantages.
In case of any further queries, you can contact us on 8451864111 on any working day between 9.30am to 6.30 pm or write a mail to us anytime at support@fincash.com or chat with us by logging onto our website www.fincash.com.