Best Credit Cards to Keep in India for 2023
Updated on September 21, 2023

, 68102 views
Which are the best credit cards to keep in India? Many people, especially the salaried ones ask this question.
The truth is, there really is no single credit card that is best suited to everybody. Every credit card is different and offers different kinds of benefits and one must choose the best according to their needs & usage.
Fee Structures
1. Free for Life
These types of cards are generally free for life and doesn't attract any fees or minimum monthly amount.
2. Minimum Usage
These types of cars have certain minimum usage. which is required per year or else a fee will be charged it usage is below certain limits. Credit Cards like CITI Rewards have this applicable.
3. Monthly Fee
These types of cards are having monthly fees and they do have offers and benefits packed like airport lounge benefits across the globe, restaurant discounts, air deals and much more, which if used are worth the fees.
Best Credit Cards in India 2023
1. Best SBI Credit Card
SBI Card ELITE
Doctor's SBI Card (in association with IMA)
SBI Card PRIME
OLA Money SBI Card
Apollo SBI Card
SBI Card PRIME Advantage
Tata Platinum Card
Lifestyle Home Centre SBI Card PRIME
Max SBI Card SELECT
Spar SBI Card SELECT
fbb SBI STYLEUP Card
Club Vistara SBI Card PRIME
Etihad Guest SBI Premier Card
Central Bank of India SBI Elite Card
City Union Bank SBI Card PRIME
SBI Card ELITE Business
Features and Benefits
You can transfer the outstanding balances of your other credit cards to SBI Card at lower interest rates. You can also convert your transactions into EMIs
The bank offers you instant cash with the SBI Card's Easy Money and ATM Cash services.
You can pay your utility bills with easy features such as Auto Pay, Register & Pay and Fast Pay
With your SBI Card, you can choose from three different types of insurance cover, such as - accidents, health, card loss, card theft and more
2. Best HDFC Credit Card
IndiGo HDFC Bank Credit Card
JetPrivilege HDFC Bank Diners Club
Millennia Credit Card
EasyEMI Card
Doctors Superia Credit Card
Teachers Platinum Credit Card
Freedom Credit Card
Solitaire Credit Card
Corporate premium Credit Card
Features and Benefits
HDFC offers you a credit card for your every need. Right from everyday expenses to luxury spends, daily commute to holidays, from store-hopping to online shopping, the bank will enhance your every experience
You can get attractive reward points on leading brands
One of the key benefits is the lounge access at the domestic and international airports
3. Best Axis Credit Card
Axis Bank FreeCharge Plus Credit Card
Axis Bank Magnus Credit Card
Flipkart Axis Bank Credit Card
Axis Bank MY Zone Credit Card
Axis Bank Neo Credit Card
Axis Bank Vistara Credit Card
Miles and More Axis Bank Credit Card
Axis Bank Insta Easy Credit Card
Titanium Smart Traveler Credit Card
Axis Bank My Wings Credit Card
Features and Benefits
You get exclusive benefits on transaction for travel, food, e-commerce and or a combination of these
Axis credit cards give you complementary flight tickets and also access to airport lounges
You can also enjoy discounts on movie tickets
Waiver of fuel surcharges
Additionally, you can avail discounted deals on hotel bookings and restaurant orders
4. Best ICICI Credit Card
Carbon Credit Card
Rubyx Credit Card
Emeralde Credit Card
Coral Contactless Credit Card
Platinum Chip Credit Card
InterMiles ICICI Bank Coral Credit Card
HPCL Credit Card
Features and Benefits
You can avail discounts on shopping, dining, movies, etc
Under travel benefits, you can get complimentary airport lounge access, fuel surcharge waiver, fuel discounts
ICICI credit cards give you cash rewards, PAYBACK offers, 24x7 concierge service and much more
The credit card have the security of a chip card to protect against fraud
5. Best Yes Bank Credit Card
Yes Prosperity Edge
YES Prosperity Business
YES Prosperity Rewards Plus
YES Prosperity cashback Plus
Features and Benefits
As a welcome cashback, you are eligible for a cashback of Rs. 250 to Rs. 1,250 for spends in your first month
You can gather reward points on spends and redeem these for exciting products and services from the rewards catalogue
Convert a spend into an EMI instantly. This will give you the flexibility to make those larger purchases
You can also enjoy waivers on fuel surcharges for the transaction between Rs. 400 and Rs. 5,000
Yes credit card gives access to comfortable airport lounges
Best Lifetime Free Credit Card in India for 2023
Standard Chartered Platinum Rewards Card
Note: Application link may say joining fees of Rs. 250, but that will be waived off when you use your credit card within the first 90 days.
Actually, it's ZERO Annual fees, but they charge so that you use the card after approval. This credit card is best for salaried people who want to own all-rounder credit card.
Benefits
Easy approval for salaried people
Get an additional 1000 rewards points if you transact within 60 days
Bonus 500 points for registering for online banking
20% cashback on Uber rides
5 points on spending 150 rupees on dining
5 points on spending 150 on fuel
1 reward points on spending 150 on any other category
Additional discounts & offers from Ola, Uber, Grofers, Yatra, etc., that keep on changing with time
Looking for Credit Card?
Get Best Cards Online
Best Credit Card For Salaried Person in 2023
Standard Chartered Manhattan Credit Card
Don't worry about the annual fees, you can get that waived off every year.
It's the Best credit card for Salaried people if you can spend more than Rs. 1.2 Lakh per year.
Benefits
5% Cash Back on credit card expenditure at supermarkets & department stores
3x rewards when you use your credit card anywhere
You can earn up to Rs. 500 as cashback every month and Rs. 150 per transaction
Best Credit Card for Fuel and Utility Bills 2023
You can get fuel benefits on following credit cards like-
Citi IOC Credit Card
SC Titanium Card
ICICI HPCL Coral Card
HDFC Bharat CashBack
SBI BPCL
RBL Platinum Maxima
We have listed best ones out of them below.
Standard Chartered Super Value Titanium
SC Titanium because you would get 5% cashback on fuel and utility payments.
This card is suitable if you are first-time credit card applicant and your most of monthly expenses happen on fuel, phone and utility bills. The annual Fees is Rs. 750 (Waived off if you spend 60,000 in the first year).
First-year fees can also be waived off when you use the card within 90 days of approval. Clearly, you should apply for this credit card if your monthly expense is at least 5,000 rupees (12*5K = 60K per year).
Benefits
5% cashback on fuels
5% cashback on phone bills
5% cashback on utility bills
Here is a quick link to apply-
b. Citibank IOC Fuel Credit Card
Citibank has collaboration with Indian Oil Petrol pumps. You can earn Turbo points when you pay using IOC credit card on Indian Oil outlets.
Not at all useful if you refill the fuel tank from HP or Bharat petrol pumps.
The annual fees is Rs. 1000 (Waived off when you spend 30,000 per year)
Benefits
4 Turbo Points on spending Rs. 150 on Indian Oil Pumps
2 Turbo points on spending in Supermarkets
1 Turbo points on spending 150 elsewhere
1% fuel surcharge waiver
1 Turbo Point = 1 Rs. Fuel
You can apply for IOC card using this link -
Almost all credit cards and banks offer some discounts on online shopping. But this is the list of credit cards which are designed to get big offers and online discounts.
ICICI Amazon Pay Credit Card
SBI SimilyClick Credit Card
SBI SimplySave Credit Card
Amex Rewards Membership Card
Standard Chartered Manhattan
Standard Chartered Ultimate
HDFC Diner Black
HDFC Moneyback
We have shortlisted best ones based on benefits they have to offer for average online buyer.
a. ICICI Amazon Pay Credit Card
ICICI Amazon Pay credit card made the top of the list in our collection of online shopping credit cards. Amazon launched this credit card in 2018 to give extra benefits to Prime customers.
Make sure you add your existing ICICI credit card into Amazon account to get the invite. If you don't have ICICI credit card then apply for lifetime free Platinum Credit Card.
Benefits
5% cash back on Amazon.in for Amazon Prime customers
3% cash back on Amazon.in for non-prime customers
2% cash back when paying to merchants using this card on Amazon Pay as a payment method
1% cash back on all other payments
1% fuel surcharge waiver
b. American Express Membership Rewards® Credit Card
American Express is the only credit card that gives rewards on adding money to wallets like Paytm, Amazon Pay and Freecharge.
Amex degraded the benefits of their Gold charge card when they launched Membership Rewards Card in 2018. The annual fees for First Year Rs. 1000 (Second year onwards Rs. 4500)
Note: Annual fees is waived off when you apply using the below link, also earn 2000 bonus points.
Benefits
2000 referral bonus points when you apply using the above link.
1000 Bonus points for using your Card 4 times every month.
Earn 1 MR point on Rs.50 spent on all spends except for spending
Drawback
No rewards on Fuel, Insurance, Utilities and Cash Transactions.
(Best, if you already have any other cashback credit card. Use it for earning 1000 bonus points worth 400 rupees every month)
c. SBI Simply Click Credit Card
It's hard to get the approval of SBI Credit cards. But If you get your salary in SBI bank account then approval becomes easy.
Simply click card gives you direct 10x rewards when shopping on Amazon, Flipkart, Makemytrip, Cleartrip and many more vendors.
| SBI Simply Click Credit Card | Details |
| --- | --- |
| Annual fee | 499 (waived off by spending 100,000 in one year) |
| Bonus | Rs. 500 voucher from Amazon |
| Not for first-time applicants | You should have an excellent credit history for getting the approval of this card |
Benefits
10X rewards on online spends – Amazon / BookMyShow / Cleartrip / Foodpanda / FabFurnish / Lenskart / OLA / Zoomcar
Earn 5X rewards on all other online shopping
A welcome e-gift voucher worth Rs 500 from Amazon
1% fuel surcharge waiver (on 500+ transaction amount)
Cleartrip e-voucher worth Rs.2,000 on annual online spends of Rs. 1 Lakh (one more 2000 e-voucher on another 1Lakh milestone)
d. Citi Bank Cashback Credit Card
This is one of the best credit cards if you like watching movies and paying your bills online.
The annual fees for Citi Bank Cashback Credit Card is Rs.500.
Benefits
5% cash back on movie tickets
5% cash back on telephone bill payments
5% cash back on Utility Bill Payments
0.5% Cash Back on all other spends
Drawbacks
You must have excellent Credit History before applying.
80% Citibank card applications decline because people do not have a credit history.
The online form is complex and lengthy, be patient and fill the information.
e. ICICI Instant Platinum Card
It is not easy to get your first credit card in India. ICICI bank offers you instant credit card against Fixed Deposit if you have a saving account with ICICI bank. You can simply log on to ICICI online banking and apply for the card.
If you worry for your CIBIL Score just because you want to apply for a credit card, you must try ICICI Instant Platinum Credit Card.
The annual fee is Rs. 199 (waiver on spending Rs. 2000 within 60 days of approval).
Who Should Apply?
ICICI credit card is a good option for students, housewives and non-salary people if they want to apply for credit card against a Fixed Deposit. Salaried people must apply for Standard Chartered Platinum Rewards Card (Free for Life).
Benefits
2 payback points for every Rs. 100 spent
1 payback point for every 100 rupees on insurance & utilities
Get Rs. 100 off on movie tickets twice a month
1% fuel surcharge waiver can be availed on fuel transaction of maximum Rs. 4,000 at HPCL pumps
ICICI bank will offer you a Credit Limit based on the amount you keep in the fixed deposit. You will earn regular interest on your fixed deposit. The bank just wants to secure itself against the risk of fraud by the first-time credit card user
f. HDFC Moneyback Credit Card
Money back credit card is the basic credit card that you can apply as a first-time applicant.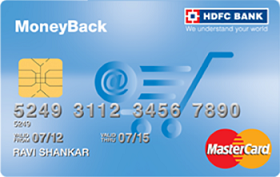 The only reason for adding this credit card in the best credit list is the approval rate. You can get the card approved against the Fixed deposit or if you have a salary more than Rs. 25,000 per month.
Benefits
4 reward points per Rs 150 for online shopping
2 reward points per Rs 150 for elsewhere
1% fuel surcharge waived off (above 400 rupees transaction)
g. Axis Buzz Credit card
If you are an existing customer of Axis bank then get this card for online shopping. Low annual fees and great benefits on Flipkart.
The annual fees for Axis Buzz Credit Card is Rs. 750.
Benefits
10% instant discount on Flipkart from 1 to 5th of every month
5% instant discount on Flipkart from 6 to 31st of every month
2 axis eDGE reward points on every Rs 200 spent
6 axis eDGE reward points on online shopping
Make 3 transactions and get Flipkart voucher worth Rs 1000 within the first 45 days of card setup
h. IndusInd Iconia
IndusInd has only one credit card worth keeping. You can check with the bank to reduce the fees based on your relationship.
The one time fees of Rs. 10,000 (you can negotiate).
Benefits
2 Reward Points for every Rs. 100 spent on weekends
1.5 reward points for every Rs. 100 spent on weekdays
1% Fuel surcharge waiver
2 complimentary lounge access per quarter
200 off on movie tickets per month on BookMyShow
i. RBL Platinum Maxima Credit Card
RBL bank also offers good discounts on online shopping.
The The annual fees is Rs. 2000.
Benefits
10 Reward Points for every Rs.100 (dining, entertainment, utility bill payments, fuel and international)
2 Reward Points for every Rs.100 spent elsewhere
free movie ticket free up to Rs. 200 from BookMyShow
2 complimentary visits every calendar quarter at domestic lounges
Best Credit Card for Travel 2023
HDFC Superia Credit Card
Enjoy premium travel benefits across various airlines. The Credit card offers 1000 reward points as welcome benefits.
Renewal benefit comes with 1000 reward points.
Benefits
Save more while flying domestic with Air India, etc.
Redeem points for miles with 20+ international airlines
You will receive 3 reward points on every Rs. 150 spent and 50% more on dining spends
BPCL SBI Card
On payment of joining fee, the card offers 2,000 activation bonus reward points worth Rs. 500. Reward points will be credited after 20 days of the payment of joining fee.
You can redeem it instantly against fuel purchase at BPCL outlets, BPCL Vouchers or at Shop n Smile rewards catalogue.
Benefits
Win 2,000 reward points worth Rs.500 as a welcome gift
Get 4.25% value back and 13X reward points on every Rs.100 you spend for fuel
Earn 5X reward points every time you spend Rs.100 on groceries, departmental stores, movies, dining & utility bill
American Express Platinum Travel Credit Card
This credit card offers a welcome gift of 5,000 Milestone Bonus Membership Rewards Points. You can redeem for travel vouchers worth Rs. 3,500
The first year fee is Rs. 3,500 plus applicable Taxes (Second Year onwards: Rs. 5,000 plus applicable taxes).
Benefits
Get free travel vouchers worth Rs.7700 and more if you spend Rs.1.90 lakhs in a year
Get 4 complimentary lounge visits every year for domestic airports
Earn 1 membership reward point for every Rs.50 spent
Get an e-Gift worth Rs.10,000 from Taj Hotels Palaces
Free travel vouchers worth Rs.11,800 if you spend Rs.4 lakhs a year
Axis Bank Miles & More World Credit Card
On every spend, you will get a miles without any limit. You can also enable automatic payments with your card and pay utility bills.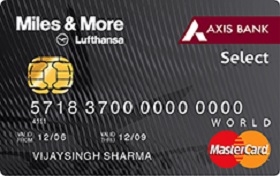 With the EMV certified chip in your Miles & More Credit Card, your transaction is safe and secured.
Benefits
Earn unlimited and never expiring miles
Two complimentary airport lounges access annually
Earn 20 points for every Rs.200 spent
Get 5000 points on joining
Get multiple reward options from the award miles program
ICICI Platinum Identity Credit Card
You get 24x7 personal concierge service to ensure that you everything is going smooth. The bank will take care of the finer details like travel bookings, restaurant reservations, gift & flower delivery, medical services, emergency auto assistance, etc.
The credit card offers complimentary membership and Priority Pass so that you can access to more than 600 exclusive airport lounges across the world. This membership is valid for one year.
Benefits
Earn 2 rewards for every Rs. 200 you spend and 4 reward points for every Rs. 200 you spend internationally
Free personal assistance for travel bookings, medical services, and hotel bookings
Zero annual fee for the first year