Know Everything About ITR 2 Form
Updated on September 25, 2023

, 10402 views
Taxpayers have been divided on the Basis of their source of Income, income, and other additional factors to make sure seamless compliance. Those who have incomes from different categories have been categorized into different Income Tax Return Forms.
Out of all, this post is dedicated to ITR 2. So, in case you belong to this category, know more about how you can continue with this form.
Who Is Eligible to File ITR 2 Form?
ITR 2 filing is necessary for those HUFs and individuals who have been receiving their income from additional sources, except the gains and profits from profession or business. Hence, the following people cover in this form eligibility:
Non-resident and Resident not ordinarily resident
The ones who get their income from pension or salary
Individuals who earn more than Rs 5000 from agriculture
Those who earn Income from house property (more than one house property could be counted
as well)
People with foreign income or foreign assets
Taxpayers who get income from Capital gains or loss on the sale of property or investments (both long term and short term)
People who earn their incomes from additional sources (including bets on racehorses, lottery, and other legal methods of gambling)
Who Cannot File ITR 2?
Coming to those who are not eligible to fill up this form, the list includes:
People who are eligible to File ITR 1 form

Any Hindu Undivided Fund or individual earning income from profession or business

Ready to Invest?
Talk to our investment specialist
Structure of ITR 2 for AY 2019-20:
As per the last financial year, income tax ITR 2 is divided into different parts as mentioned below:
General Information
Computation of Total Income
Computation of Tax Liability on Total Income
Details to be filled if the return has been prepared by a Tax Return Preparer
Schedule S: Details of Income from Salaries
Schedule HP
Details of Income from House Property
Schedule CG
Computation of Income under Capital Gains
Schedule OS
Computation of Income under income from other sources
Schedule CYLA
statement of income after set off of current year's losses
Schedule BFLA
Statement of income after set off of unabsorbed loss brought forward from earlier years
Schedule CFL
Statement of losses to be carried forward to future years
Schedule VIA
Statement of deductions (from total income) under Chapter VIA
Schedule 80G
Statement of donations entitled for Deduction under Section 80G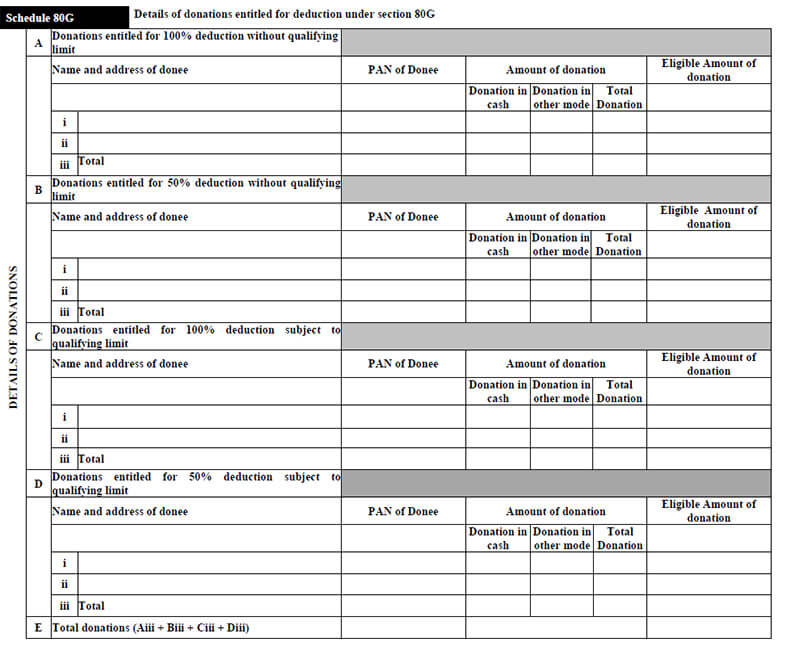 Schedule 80GGA
Statement of donations for scientific research or rural development
Schedule AMT
Computation of Alternate Minimum Tax payable under section 115JC
Schedule AMTC
Computation of tax credit under section 115JD
Schedule SPI
Statement of income arising to spouse/ minor child/ son's wife or any other person or association of persons to be included in the income of the assessee in Schedules-HP, CG and OS
Schedule SI
Statement of income which is chargeable to tax at special rates
Schedule EI
Details of exempt Income
Schedule PTI
Pass through income details from business trust or investment fund as per Section 115UA, 115UB
Schedule FSI
Statement of income accruing or arising outside India
Schedule TR
Details of Taxes paid outside India
Schedule FA
Details of Foreign Assets and income from any source outside India
Schedule 5A
Statement of apportionment of income between spouses governed by Portuguese Civil Code
Schedule AL
Asset and liability at the year-end (applicable in case income exceeds Rs 50 lakhs)
How to File ITR 2 Income Tax?
There are two different ways of submitting ITR 2 form – online and offline.
Offline Submission
When it comes to filing ITR 2 offline, only the ones who are 80 years or above age are allowed to do so. And, as far as the method is concerned, it can either be done by furnishing a return in a physical form of paper or by furnishing a return in a bar-code form.
Online Submission
The ITR 2 online filing is one of the easiest ways to file the return. You can simply follow the below-mentioned steps:
Visit the government website
Log into your dashboard and click Prepare and submit ITR form
Select ITR-Form 2
Fill your details and click the Submit button
If applicable, upload your digital signature certificate (DSC)
Click submit
Final Words
Filing up ITR 2 is not a tough task. All you have to do is collect required documents if you belong to the eligible category. Sign up on the portal if you haven't yet. In case you are new to ITR and filing, you can take professional help as well.