Best Financial Mutual Funds 2023
Updated on March 27, 2023

, 11785 views
A financial Mutual Funds are a part of sector Equity Funds. These funds are also known as 'Banking & Financial Services Fund'. The aim of these funds is to generate Income by Investing in stocks/shares of companies that cater to the banking sector and financial Industry. So, let's understand the future potential of financial funds, along with the best financial mutual funds to invest.
Ready to Invest?
Talk to our investment specialist
Financial Mutual Funds in India
If we look at the July 2017 data released by SEBI, banking and sector funds were the most favored ones. The data shows that Bank and finance- the two leading sectors has shown a sharp surge in share AUM.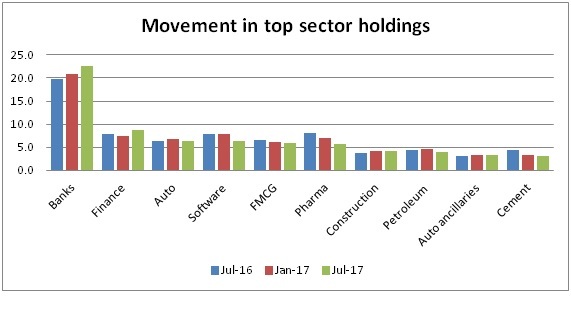 As per the Jul'17 statistics, the AUM of the banking sector, which is the leading sector, has moved from 20.9 percent to 22.6 percent in just six months.
How to Invest in Financial Mutual Funds Online?
Open Free Investment Account for Lifetime at Fincash.com.

Complete your Registration and KYC Process

Upload Documents (PAN, Aadhaar, etc.). And, You are Ready to Invest!
Top Performing Best Financial Mutual Funds FY 23 - 24
Fund
NAV
Net Assets (Cr)
3 MO (%)
6 MO (%)
1 YR (%)
3 YR (%)
5 YR (%)
2022 (%)
ICICI Prudential Banking and Financial Services Fund Growth
₹84.74
↑ 0.76
₹5,871
-7.4
2
6.4
26.7
8.2
11.9
Aditya Birla Sun Life Banking And Financial Services Fund Growth
₹37.86
↑ 0.47
₹2,385
-8.8
0.9
4.4
24.9
7.5
11.5
Invesco India Financial Services Fund Growth
₹77.97
↑ 1.01
₹473
-7.4
4.1
5.5
21.7
9.1
12.8
Sundaram Financial Services Opportunities Fund Growth
₹62.7822
↑ 0.62
₹602
-6.7
6.2
10.2
25
11.1
16.8
UTI Banking and Financial Services Fund Growth
₹119.095
↑ 1.22
₹824
-7.7
3.2
7.8
24.6
5.2
15.1
Note: Returns up to 1 year are on absolute basis & more than 1 year are on CAGR basis. as on 29 Mar 23
When we speak about the banking and finance sector of India, we have many major players like ICICI Bank Ltd, HDFC Bank Ltd, State Bank of India, Yes Bank Ltd, Axis Bank Ltd, etc. The Indian banking system consists of 26 private sector banks, 27 public sector banks, 1,574 urban cooperative banks, 56 regional rural banks, 46 foreign banks and 93,913 rural cooperative banks in addition to cooperative credit institutions.
Companies that operate within the banking and financial industry are highly regulated. Many good companies aim to deliver consistent performance and returns over the years, as a result, it brings in confidence for investors who are planning to invest in sector funds. However, one should always keep in mind the risk factors of such funds. These funds, sometime, can be at two extremes, they can deliver good returns and can sometimes perform badly too. Therefore, it is advisable that investors who are planning to invest in such sector funds should have a high-risk appetite and also should stay invested for a longer duration. Ideally, one should invest in such funds for diversification purpose.