11 Best Large Cap Equity Funds 2018 - 2019
Updated on November 18, 2018

, 1470 views
Equity Investing or when one thinks of Mutual Funds, the first thought that comes to one's mind are Equity Funds. Within equity, one thinks of large-cap equity or diversified equity.
Large cap mutual funds are considered to be one of the safer investments in equities as they have good returns and are less volatile to market fluctuations compared to other equity funds i.e., mid and Small cap funds. Equity investing has its rewards as well as there are various risks in it too. Investors are keen to invest their monies in large-caps even though the share price of blue-chip companies is high.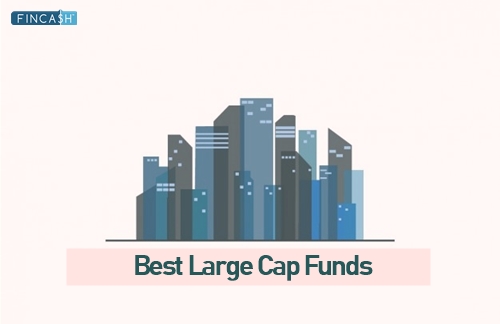 Choosing the top large cap fund or best large cap mutual funds is an important task that needs to be given its due importance. Looking at various factors and by doing adequate research can one narrow down to a list of say top 10 best large cap mutual funds 2018 to finally choose from. We see below the benefits of investing in large cap mutual funds, how to select the best Large cap funds and finally, a list of the top 10 best large cap funds to invest in 2018.
Ready to Invest?
Talk to our investment specialist
How to Select Large Cap Funds?
Choosing the right large-cap mutual fund is never easy. Some funds tend to perform well, while other funds tend to languish. But, there are a few parameters that investors have to look while choosing a right fund. One needs to look at a number of quantitative as well as qualitative factors before deciding on which is the best large cap fund.
Quantitative Factors
The scheme or mutual fund rating could be a good starting point. This needs to be supplemented with other data such as fund age, assets under management (AUM), past returns, expense ratio etc. Furthermore, investors are advised to check last three years performance of a fund. A fund should have net assets of over INR 1000 crore and also must have a minimum average allocation of 65 percent to large cap stocks over the past one year.
Qualitative Factors
This further needs to be filtered with qualitative factors such as fund house reputation, the fund manager track record and the investment process. One must select the fund house on which you have faith to invest your money. Identifying fund houses that have a strong presence in the market and provide a variety of funds that have a long and consistent track record. One should also see how many of the funds are top performers. A fund manager with a good track record is a must. An Asset Management Company with a set institutionalised investment process is also important since this ensures that it's a process that gets you to make money rather than just a fund manager (person - and hence keyman risk). By doing the above, one can try and select the best large cap fund or even make a list of the top 10 best large cap funds to invest in.
Top 11 Best Performing Large Cap Mutual Funds 2018
Fund
NAV
Net Assets (Cr)
3 MO (%)
6 MO (%)
1 YR (%)
3 YR (%)
5 YR (%)
2017 (%)
Reliance Large Cap Fund Growth
₹32.5967
↓ -0.35
₹11,070
-5.3
3.2
1
11.8
18.2
38.4
ICICI Prudential Bluechip Fund Growth
₹39.85
↓ -0.51
₹18,870
-6.3
0.7
0.2
11.8
15.2
32.7
Aditya Birla Sun Life Frontline Equity Fund Growth
₹210.91
↓ -2.27
₹20,011
-7.9
-1.8
-2.7
10.3
15.1
30.6
SBI Bluechip Fund Growth
₹36.5679
↓ -0.33
₹19,097
-7.9
-3.7
-3.2
9.2
16.3
30.2
HDFC Top 100 Fund Growth
₹457.461
↓ -5.38
₹14,699
-4.1
5.2
-0.6
11.9
15.4
32
Kotak Bluechip Fund Growth
₹214.502
↓ -1.73
₹1,280
-9.7
-2.8
-2
8.3
13.8
29.2
Franklin India Bluechip Fund Growth
₹440.923
↓ -5.89
₹7,508
-7.8
0.1
-2.7
8.4
13
26.3
BNP Paribas Large Cap Fund Growth
₹80.84
↓ -0.62
₹762
-8
-2.9
-3.1
7.4
14
37
TATA Large Cap Fund Growth
₹201.394
↓ -1.57
₹720
-8.7
-1.6
-3.8
8.1
12.3
29.5
Axis Bluechip Fund Growth
₹26.05
↓ -0.14
₹2,927
-9.5
-1.3
6
11.4
14.5
38
JM Large Cap Fund Growth
₹64.5447
↓ -0.28
₹2,878
-3
0.9
1.8
7.4
12.7
20.9
Note: Returns up to 1 year are on absolute basis & more than 1 year are on CAGR basis. as on 20 Nov 18
*List of 11 Best Large cap mutual funds with AUM/Net Assets > 500 Crore.
Why to Invest in Best Large Cap Mutual Funds
1. Stable Investment
Large companies are well-established which means that they have more consistent income. The large cap fund invests in companies that are large, have been around for many years, have a stable workforce and an establish product/service that generates revenue. That is why one of the greatest benefits of large cap stocks is the stability they provide.This reflects in the portfolio of the large cap mutual fund and in its NAV too.
2. Steady Returns
In long-term, though large-cap funds have lower returns than mid cap and small cap funds, the returns in large cap funds are more steady. The volatility in mid-caps is much higher and one sees more periods of losses in mid caps than large caps. As an investor if one wants to invest in equities, then investing in large cap mutual funds could be a starting point.
3. Less Volatile
Large cap funds are less volatile than mid cap and small cap funds. This has also been proven with historical data too. The image below has an analysis of Large Cap's average annual returns of last 15 years. This is done by using BSE Sensex as a proxy for large-cap and BSE mid-cap for mid-caps.
4. Moderately High-Risk
As the investments are made in large companies, these funds tend to have low risk compared to mid-cap and small-cap funds. While large cap mutual funds are a relatively lower risk as compared to mid-caps or small caps, one needs to remember that the underlying investment is equity. Equity investing can lead to losses in the short run. One should be prepared to see losses and not lose sleep over the same. However, if one does have a long holding period (at least more than 5 years) and follows certain basics of investing, then one can make a certain amount of profits.
How to Invest in Best Large Cap Funds Online?
Open Free Investment Account for Lifetime at Fincash.com

Complete your Registration and KYC Process

Upload Documents (PAN, Aadhaar, etc.). And, You are Ready to Invest!
Conclusion
Since large cap funds invest in companies with large market capitalization, these companies have the size and scale to survive the bad markets and economic cycles. Therefore, investment in large cap funds is considered to be the safest of all equity mutual fund categories. however, one should always remember that the underlying investment is equity and there are risks to equity investing. While risks of large cap mutual funds are relatively lower, the returns would also be steady and not exceptional returns during bull market phases. Investors who prefer moderate yet sustained returns with a certain degree of risk; can invest in the best large cap funds!