10 Best Small Cap Mutual Funds 2020
Updated on September 17, 2020

, 42061 views
Small caps are typically defined as firms with a market capitalization (MC=no of shares issued by the company X market price per share) of less than INR 500 Crore. Small cap companies are young firms which have a great potential for sustainable growth in the long run. But, the risk of failure is higher with small caps compared to large and mid-cap companies.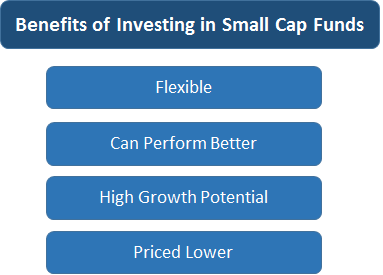 Looking for Best Small Cap Mutual Funds? Well, small-cap funds are among one of the best wealth creation tools for long-term Financial goals. These financial goals may include child's education, Retirement planning, etc.
However, small-cap funds help to diversify portfolios and investors can take a small allocation (5-10%) in the overall portfolio which can outperform over long investment period.
What are Small Cap Mutual Funds?
Small-caps are defined as "251st company onwards in terms of full market capitalization". As per norms, the portfolio of small-cap funds should have at least 65 percent of its total assets in small-cap stocks. Investors wanting to maximise their returns in the long-run, and who have a high-risk appetite, can plan their investments in small-cap funds. One should be able to tolerate volatility of small-caps. These funds can rise the most in a bull market and can also suffer the steepest falls in a bear market. To gain optimal returns, an investor should at least invest for more than three-five years.
Ready to Invest?
Talk to our investment specialist
If we look at the past performance of small-cap funds, as of 9th Jan 2012, the average three-year return of small-cap funds was 25.5 percent compared to 24 percent by mid and small-cap funds. The average three year return of large-cap Equity Funds was 17.518 per cent on 9 January 2012. There are many firms in the small-cap space that have the potential to become success stories in the future.
Top 10 Best Small Cap Funds to Invest in FY 20 - 21
Fund
NAV
Net Assets (Cr)
3 MO (%)
6 MO (%)
1 YR (%)
3 YR (%)
5 YR (%)
2019 (%)
SBI Small Cap Fund Growth
₹60.2569
↓ -0.51
₹4,270
27.1
38.7
22.2
6.6
14.3
6.1
Nippon India Small Cap Fund Growth
₹43.4455
↓ -0.17
₹8,322
30
48.1
19.3
2.7
12.3
-2.5
Kotak Small Cap Fund Growth
₹82.028
↓ -0.13
₹1,494
31.4
42.9
23.5
2.7
9.6
5
L&T Emerging Businesses Fund Growth
₹22.69
↓ -0.01
₹4,796
27.1
37.9
3.9
-3.7
9.4
-8.1
HDFC Small Cap Fund Growth
₹39.288
↓ -0.05
₹7,851
26.4
38.3
3.1
0.4
9.3
-9.5
DSP BlackRock Small Cap Fund Growth
₹61.617
↓ -0.10
₹4,650
29.5
45.6
24.1
0.1
8.7
0.7
ICICI Prudential Smallcap Fund Growth
₹26.81
↑ 0.07
₹1,199
30.1
37.2
12.5
0.1
6.2
10
Franklin India Smaller Companies Fund Growth
₹49.3343
↑ 0.07
₹5,244
26.9
32.2
3.6
-5.1
5.4
-5
Aditya Birla Sun Life Small Cap Fund Growth
₹30.8389
↓ -0.03
₹1,899
27.2
36.7
4.5
-7.9
5
-11.5
Sundaram Small Cap Fund Growth
₹79.6741
↓ -0.45
₹945
26.2
37.2
10.8
-6.7
3.5
-6.1
Note: Returns up to 1 year are on absolute basis & more than 1 year are on CAGR basis. as on 18 Sep 20
*Above is list of best small cap Mutual Funds having Net Assets/ AUM above 100 Crore & Sorted on 5 Year CAGR Returns.
Why Should you Invest in Small Cap Funds?
Some of the benefits of investing in a small-cap fund are:
Small caps tend to be more flexible than the large caps. Smaller companies can adapt changes quicker than the larger companies, hence they can show explosive growth
At times, Small cap funds tend to perform better than the Large cap funds, but their volatility can be much higher
Since these are the companies at their early stage of development, they can grow rapidly
Small cap stocks are priced lower than mid cap and large cap stocks
With high risk comes the potential of making high returns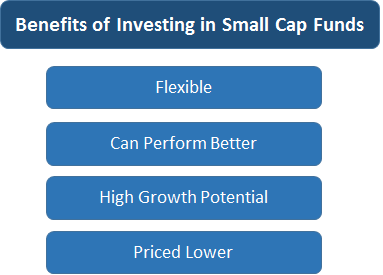 Who Should Invest in Small Cap Mutual Funds
As small-cap funds invest in small-cap stocks and small companies like startups, they have a huge potential for future growth. But, the matter of fact is that the returns of small caps are subjected to high volatility. Thus, some of the small-cap stocks can erode your wealth. However, on the other side, small caps can also double your investments in the future.
Due to the nature of the companies, small caps can outperform in a rising market and even can underperform during a downturn. Hence, investors who can bear a high level of risk in their investment should only consider Investing in small cap funds. You should be able to bear downfalls in bad market phase. If you are planning to invest in such high-risk funds, it is suggested to plan your investments for a longer duration, i.e., approximately for more than five years. The longer you invest in the equity market, higher are the chances to earn good profits.
How to Invest in Small Cap Funds Online?
Open Free Investment Account for Lifetime at Fincash.com.

Complete your Registration and KYC Process

Upload Documents (PAN, Aadhaar, etc.). And, You are Ready to Invest!
Tips to Invest in Best Small Cap Equity Funds
When planning to invest in small-cap funds, here are some of the important parameters that you need to take into account before jumping into investing.
Evaluate past performances
Ideally, whenever you are planning to invest in a Mutual Fund scheme, you should thoroughly evaluate the past performances of the fund. Take returns of the past five years and try to compare it with other good funds. A fund should be consistent in its performances in all market conditions. Also, check if the fund is able to beat its benchmark or not.
The scheme should belong to a quality fund house
It is always suggested to look at the quality & reputation of the fund house that you wish to invest in. A fund house with a long-standing record, large assets under management, star funds or good performing fund, etc., is the one to invest in. The fund house that has a strong presence in the financial industry with a consistent track record should be ideally preferred.
Check the experience of the fund manager
The credit of performance of a Mutual Fund scheme lies with the fund manager. A fund manager is responsible for making investment decisions for the fund's portfolio. So, investors should go through the performance of the funds managed by the particular fund manager, especially during the tough market phases. The fund manager Going for a fund manager who has been consistent over his career is a preferred choice.