Top 5 Tips to Save Money
Updated on October 19, 2020

, 7900 views
We all love to be financially secure, but only a few end up being so. Saving money is something every person should be habitual of! Yet, many people tend to save less and spend more. There are some very basic yet effective ways; using which one could start saving money.
Let's have a look at a few of the top five tips on how to save money!
Ready to Invest?
Talk to our investment specialist
Money Saving Tips: Best Was to Save Money
Following are some of the best ways to save money.
Record your Expense
Recording your expense is the first basic step that you need to do in order to save money. For a month, keep a check and record all kinds of expenses you have made. By doing this, you will have an idea of how much you are spending and wherein you need to limit your expenditure. Following the first step will lead you to the second step that is 'making a tight budget'.
Make a Tight Budget
Start making your monthly budget according to your expenses. The main reason for making a tight budget is to control and curb your spending. One of the best ways to save money is to divide the salaried amount into clear expense heads. For example, you can divide it into 4 broad categories/ portions - 30% on house and food expense, 30% for lifestyle, 20% for savings and another 20% for debts/credits/loans etc.
As a thumb rule always endeavour to save 10% - 20% from the salaried amount.
Spend Less Save More
Savings =Income - Expenses; is what we are endeavouring to say here! This evaluation will give you a very simple and easy way to save and spend. One important thing that everyone should practice is to make productive use of their earnings.
Limit all your extra and unnecessary spends. Visualise what all you want to have in next five years, may be a house or a vehicle? And accordingly, start saving with that as an end objective.
Start Investing
The next approach to saving money is by Investing! The main idea behind investing is to generate a regular income or returns in a specific period of time. With time, your investment grows and so does your money. For instance, the value of INR 500 will not be same in the next five years (if invested!) and it may grow to more! Hence, investing is very important for everyone. However, before investing, one has to first save money! One way to get closer to your desired goals is to understand the power of compound interest. Compound interest means an interest which is not only calculated on the initial principal but also takes into consideration the accumulated interest over prior periods.
So if you are planning to save money, there are many short-term and long-term investment options that you can consider.
Have Financial Goals
Have Financial goals to save money! Financial set-up can be a major backbone to you at all times of your life. Regardless of your age, setting financial goals is very important. You can target your financial goals by categorising into time frames, i.e., short-term, mid-term and long-term goals. This gives a very systematic and realistic approach to your financial goals. So if you want to save money, start setting your goals by dividing them into time frames.
Mutual Fund Options for Short, Mid & Long Term Financial Goals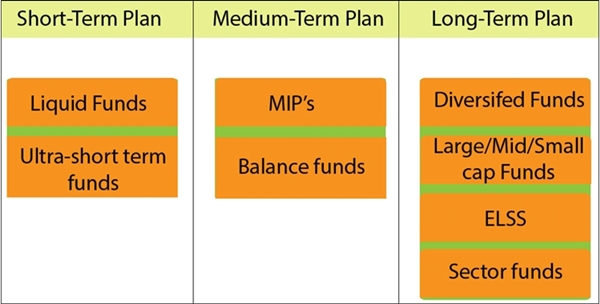 Best Mutual Funds for Short Term Goals- Up to 1 Year
Fund
NAV
Net Assets (Cr)
3 MO (%)
6 MO (%)
1 YR (%)
3 YR (%)
2019 (%)
Debt Yield (YTM)
Mod. Duration
Eff. Maturity
Sub Cat.
Indiabulls Liquid Fund Growth
₹1,961.93
↑ 0.15
₹237
0.8
1.6
4.3
6.1
6.6
0%
Liquid Fund
JM Liquid Fund Growth
₹55.1302
↑ 0.00
₹1,782
0.8
1.7
4.4
6.2
6.6
3.25%
23D
24D
Liquid Fund
PGIM India Insta Cash Fund Growth
₹262.717
↑ 0.02
₹670
0.8
1.9
4.6
6.4
6.7
3.34%
29D
29D
Liquid Fund
Principal Cash Management Fund Growth
₹1,782.86
↑ 0.14
₹152
0.8
1.7
4.2
2.9
6.2
3.21%
20D
21D
Liquid Fund
Aditya Birla Sun Life Savings Fund Growth
₹415.535
↑ 0.03
₹14,532
1.4
4.1
7.5
7.7
8.5
4.51%
5M 26D
6M 18D
Ultrashort Bond
Note: Returns up to 1 year are on absolute basis & more than 1 year are on CAGR basis. as on 21 Oct 20
Best Mutual Funds for Mid Term Goals- For 3-5 years horizon
Fund
NAV
Net Assets (Cr)
3 MO (%)
6 MO (%)
1 YR (%)
3 YR (%)
2019 (%)
Debt Yield (YTM)
Mod. Duration
Eff. Maturity
Sub Cat.
Edelweiss Arbitrage Fund Growth
₹14.8963
↑ 0.00
₹3,316
0.9
1.6
4.7
5.8
6.2
3.36%
2M 23D
2M 23D
Arbitrage
Principal Hybrid Equity Fund Growth
₹78.6
↑ 0.11
₹1,067
5.3
21.6
5
2.3
2.1
4.82%
2Y 3M 25D
2Y 9M 18D
Hybrid Equity
ICICI Prudential MIP 25 Growth
₹48.2867
↑ 0.00
₹2,115
3.7
9.3
9.2
7.5
9.6
7.7%
2Y 8M 12D
3Y 8M 16D
Hybrid Debt
Kotak Equity Arbitrage Fund Growth
₹28.5907
↑ 0.01
₹15,111
1
1.7
4.5
5.7
6.1
0%
Arbitrage
Aditya Birla Sun Life Equity Hybrid 95 Fund Growth
₹748.16
↑ 1.10
₹7,647
7.7
23.7
-0.1
0
4.8
6.74%
2Y 8M 23D
3Y 10M 6D
Hybrid Equity
Note: Returns up to 1 year are on absolute basis & more than 1 year are on CAGR basis. as on 21 Oct 20
Best Mutual Funds Long Term Goals- For 5 years & above
Saving Calculator: Use to Save Money
Two very important thing saving calculator does is-
It helps you to reach your goals within a defined time
It assists you to evaluate that how much money you need to save over a specified period
So, this is how the saving calculator works-
You might have always imagined yourself being financially independent or owning a house/car, or traveling to the best places or giving a good lifestyle to your family and so on… But, to fulfill all these desires the most important thing is to save money'. The more you save, the better life you can live thereof. However, many people tend to fail in this exercise due to procrastination. So, stop procrastinating and start saving now!