6 Best Debt Mutual Funds for Lump sum Investments 2019
Updated on March 17, 2019

, 914 views
Debt Mutual Fund schemes in India have grown over the years. As a result, the best performing mutual debt funds in the market keep on changing. There are various rating systems in place to judge a mutual fund scheme, namely CRISIL, Morning Star, ICRA. These systems evaluate a mutual fund in terms of returns, Standard Deviation, credit quality of securities, rate movement guidance by RBI, etc.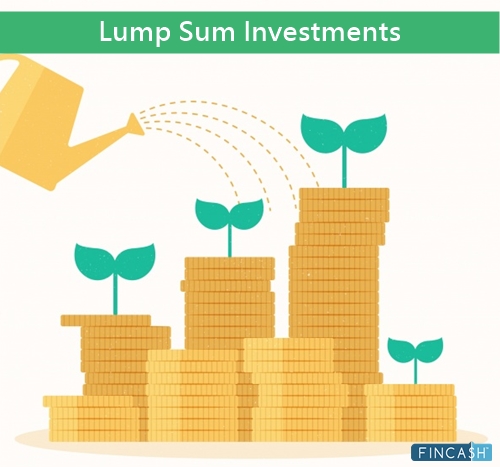 Why To Invest Lump Sum in Debt Mutual Funds?
Better return than prevailing Fixed Deposit (FD) & Recurring deposit (RD) rates across banks
Returns are linked to debt markets
Immediate (T+1) redemption online
Indexation (Debt Taxation benefits) benefits on returns over three years
Ready to Invest?
Talk to our investment specialist
Best Lumpsum Debt Mutual Funds FY 19 - 20
Below are the top ranked funds from Debt Categories primarily funds having AUM > 500 Crore & are in Ultra-short, Corporate bond, Credit Risk, Low Duration sub categories && Having maturity of less than 3 years and providing highest yields.
Top 6 Lump sum Debt Mutual Funds
Fund
NAV
Net Assets (Cr)
Min Investment
3 MO (%)
6 MO (%)
1 YR (%)
3 YR (%)
2018 (%)
Debt Yield (YTM)
Mod. Duration
Eff. Maturity
BOI AXA Credit Risk Fund Growth
₹13.1663
↑ 0.00
₹799
5,000
1.4
-2.7
-0.8
6.4
-0.3
14.14%
1Y 8M 5D
2Y 8M 16D
Aditya Birla Sun Life Credit Risk Fund Growth
₹13.6127
↓ 0.00
₹7,318
1,000
1.1
3.2
5.9
8
6.6
12.03%
1Y 5M 23D
1Y 11M 1D
Reliance Credit Risk Fund Growth
₹25.6949
↓ -0.01
₹9,628
500
2.2
4.2
6.6
7.7
6.1
11.29%
1Y 8M 5D
2Y 3M 14D
Franklin India Credit Risk Fund Growth
₹19.4722
↓ -0.03
₹7,157
5,000
2.2
5.4
8.4
9.1
8.4
11.14%
2Y 7D
2Y 10M 11D
ICICI Prudential Regular Savings Fund Growth
₹19.7597
↓ 0.00
₹11,534
10,000
1.8
4.1
6.9
8
6.6
10.5%
1Y 2M 12D
1Y 5M 19D
Baroda Pioneer Treasury Advantage Fund Growth
₹2,163.36
↓ -0.03
₹743
5,000
1.7
3.5
6.8
7.8
7
10.46%
9M 7D
11M 20D
Note: Returns up to 1 year are on absolute basis & more than 1 year are on CAGR basis. as on 19 Mar 19
*List of Debt Mutual Funds having net assets > 500 Crore and Fund have assets under manegement for atleast 3 years.
Smart Tips to Look for in Debt Funds
1. Yield
The yield is a measure of the interest income generated by the Bonds in the portfolio.
For instance, let's assume that a bond has a Face Value of INR 100 with an 8 percent coupon rate. This means that the investor will earn INR 8 p.a., on each bond that he invests in. As the bonds are traded in the open market, the price will fluctuate each business day. The interest rates rise and fall and demand for the bonds moves up and down. And this impacts the price of the bond. Let's assume interest rates rise to 10 percent. Even then the investor will continue to earn INR 8. So to increase the yield to 10 percent, which is the current market rate of interest, the price of the bond will have to drop to INR 80.
In another instance, lets assume that the interest rates fall to 6 percent. Again, the investor will continue to earn INR 8. This time the price of the bond will have to go up to INR 133.
If we look at these assumptions, there are two aspects to it- the one is that the yield is not fixed, but fluctuates to changes in the interest rate. The second one is the price of the bond moves inversely to interest rates. It moves to maintain a level where it will attract buyers.
2. Yield to Maturity
The yield to maturity(ytm) of a debt mutual fund indicates the running yield of the fund. When comparing debt funds on the basis of YTM, one should also look at that fact that how is the extra yield being generated. Is this at the cost of as lower portfolio quality? Investing in not so good quality instruments has its own issues. You don't want to end up investing in a Debt fund which has such bonds or securities that may default later on. So, always look at the portfolio yield and balance it off with the credit quality.
3. Modified Duration
Modified duration provides a fair indication of a bond's sensitivity to a change in interest rates. The higher the duration, the more volatility the bond exhibits with a change in interest rates
4. Credit Quality of Portfolio
In order to invest in Best Debt Funds, checking the credit quality of the bonds and debt securities is an essential parameter. Bonds are assigned a credit rating by various agencies based on their ability to pay the money back. A bond with AAA rating is considered to be the best credit rating and also implies a safe and secure investment. If one truly wants safety and considers this as the paramount parameter in selecting the best debt fund, then getting into a fund with very high-quality debt instruments (AAA or AA+) may be the desired option.
How to Invest in Debt Lump Sum Online?
Open Free Investment Account for Lifetime at Fincash.com.

Complete your Registration and KYC Process

Upload Documents (PAN, Aadhaar, etc.). And, You are Ready to Invest!