Life Time Free Mutual Funds Investment Account
Updated on September 27, 2023

, 6658 views
Welcome to the World of Fincash.com!
First of all, we would like to thank you for choosing us as your Mutual Fund investment channel.
Are you a beginner? Are you a seasoned investor? Don't worry, all your needs will be catered. Be Rest Assured as we are always there to guide you at every step whether related to investments, product selection, registration or any other query. So, let's move ahead to have a better understanding of the features of the Life Time Free Mutual Funds Investment Account along with the registration process.

Ready to Invest?
Talk to our investment specialist
Fincash.com always believes in "Customer First" policy. We always ensure to provide top-notch customer service by keeping in mind the client's requirements and how effectively it can be fulfilled. Our aim is to create value for your money so that you can achieve your goals within the timeframe. Some of the investor-friendly features of Fincash.com include:
User-friendly website so that you get maximum information in minimum clicks
Lifetime Active & Free Account where investors need not pay any money even if they don't transact.
Easy Registration Process where people need not spend much time.
KYC Compliance which can be done within our framework through eKYC and is indeed helpful for first-timers.
Safety & Security are always on our priority where; we ensure that client's data and all their transactions both are kept confidential.
Wide Range of Schemes which people can choose as per their requirements.
Customized Solutions of Fincash.com that helps investors to ease out their product selection process under the categories of ELSS, SIPs, and Tax Saving Scheme.
Registration Process for Fincash.com
Well, the registration process to open your Life Time Free Mutual Fund Investment Account is quite simple. To complete your registration, you require:
An active mobile number
PAN number
Aadhar Number
Scanned Copy/Image of your Signature
let us look at the registration process:
Step 1: Create Your Login
The First step begins with creating your login. To create your login id, first you need to visit the website of www.fincash.com and click on the SIGN UP button on the top right side of the screen After clicking on this button, you need to enter your email address and password. This login id will be used by you whenever while transacting. So, be sure that you give your correct and valid email address. You can even do social signup using Facebook or Gmail id. The image showing the login button tab and the login screen is shown below.
Step 2: Mobile Verification
After creating your login id, the next step deals with verification of mobile number. In other words, post creation of login id, the screen gets redirected to mobile number verification where people need to enter their mobile number. Upon entering the mobile number, they receive a One Time Password (OTP) through SMS which again needs to be entered on the screen. So, be careful that you enter your correct and active mobile number. Also, while entering the OTP, ensure that all the characters are entered correctly. The image for the second step is as follows.
Step 3: PAN MF KYC Status Check
The Third step ensures that, whether you are a KYC compliant investor or not. MF KYC or Know-Your-Customer is a one-time process that you need to complete before Investing money in Mutual Funds. The KYC Status is verified using your PAN. If you have already completed your KYC process, then you will get a pop up for the same and can proceed with the registration process.
Step 4: Registration Form
This process needs to be completed by all individuals. For registration purposes, you need to fill in the form, that is spread out into 5 different tabs. These tabs include personal information, address details, bank account, FATCA details, and nominee. By filling all the tabs and uploading the relevant documents, you complete the complete KYC process and can invest up to any amount in Mutual Funds. After filling all the details, you need to click on the check box, to proceed to the next step. The image showing the various tabs of registration form along with the check box is as shown below.
4:1- Fill Personal Information
When you click on the Personal Information option, you will have to fill details like
Name (as on PAN Card)
PAN number
Father/Spouse name
Mobile number
Email address
Date of Birth (DD/mm/yyyy format)
Tax status (options in drop-down)
At the bottom if have to choose your martial status and gender. Click on the save button.
4:2- Fill Address Details
In the address details section, fill the following information:
Address types (the options are given in the drop-down)
Address details
Pin code
Landmark
City
District
State
Country
At the bottom, click on the yellow button and save the details.
4:3- Bank Details
For registration, you need to fill your bank details like:
Name (as on bank cheque)
Account type (options in the drop-down)
IFSC code
Bank account number
Confirm bank account number
Once you fill all the information, save the details.
4:4- FATCA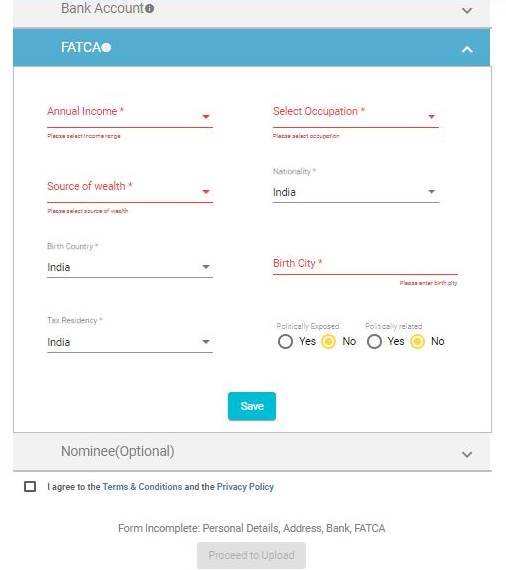 In FATCA, following are the information to fill, there are drop-downs given:
Annual Income
Occupation
Source of wealth
Nationality
Birth country
Birth city
Tax residency
At the bottom you need to select if you are politically exposed or politically related.
4:4- Nominee (Optional)
Adding nominee is optional. If you choose to fill, add the nominee name and choose the relation you share.
Once filled, accept the Terms & Conditions and proceed to upload documents.
Step 5: Upload Documents
This is the final step in your registration process. If you have completed the KYC process, then you just need to upload:
Scanned copy/Image of your signature and
Scanned copy/Image of your personalized cheque.
However, if you have not completed the eKYC and you are not KYC compliant then along with the above-mentioned documents, you need to upload
Photograph
Scanned copy/Image of PAN card and
Scanned copy/Image of Address Proof
In case of upload documents, the display of the screen is given below as follows.
Thus, we can see that the registration process is quite simple. Now the final part that is the customized solutions of Fincash.com. The USP of Fincash.com is its customized solutions that help in easing out the product selection process.
Fincash Solutions
These three solutions are for general investment need are :
SavingsPlus
This solution is suitable for people having idle money in their savings bank account and are looking for avenues to augment more income. savingsplus is a bundle of top three Liquid Fund schemes that offer more returns as compared to the Savings Account. Additionally, these funds are considered as a safe investment avenue. Some of the features of SavingsPlus are:
Higher returns
Instant Redemption
No lock-in or exit load
Invest and redeem in a click
SmartSIP
smartsip is a bundle of top three equity fund schemes that are considered to be stable and have earned good returns over a period of time. Its apt for people having long-term investment period. As the name suggests SIP, people can invest small amounts in this schemes to attain their objectives. The features of SmartSIP include:
Pre-selected top 3 SIP schemes
Schemes selected after an analysis of 20,000 schemes
Earn healthy returns
TaxSaver
The third solution taxsaver is a bundle of two Equity Mutual Funds that give the advantages of investing and tax benefits. Through TaxSaver, people can claim a tax Deduction up to INR 1,50,000 under Section 80C of income tax Act, 1961 for a particular Financial Year. Being Tax Saving Investments, they have a lock-in period of three years. Their features include:
Selected after analysis across ELSS category
Pre-selected top 2 best Equity Linked Saving Schemes(ELSS)
Save tax and earn healthy returns
Best Mutual Funds to Start Investments
Below is the list of best mutual funds once can invest having Net Assets/ AUM above 500 Crore.
So, do you want to be a smart investor and make money? Register and invest with Fincash.com and create wealth for your future.